Fayetteville's Most Unique & Historic Dining Experience
Dine in Confinement
The unique history of Cahoots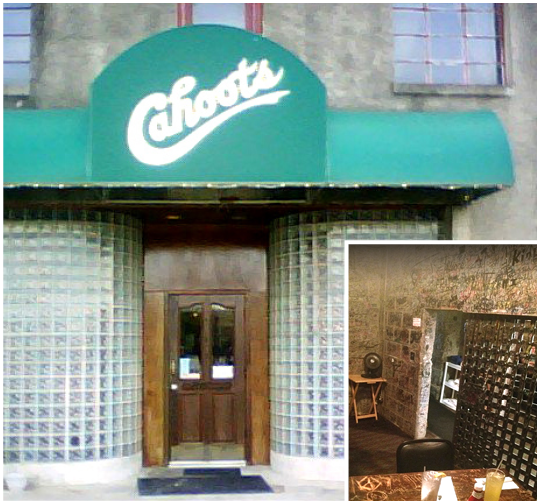 Cahoots is Fayetteville's most unique and historic dining experience. In the 1860s, the limestone rock was used to create jail cells. The city then built an attached wooden building as a fire station. Almost 40 years later, a fire destroyed the wooden fire station. In 1954, the cinderblock fire truck garage was built behind the cells.

The metal cells, located in the back room, were once used as portable cells to transport and house prisoners while they worked on the Fayetteville roads.

The city used the building as a city jail and fire station until 1970. Then, they sold the property in 1980, and 7 years later, Cahoots Restaurant opened in one of the most memorable buildings in town.
Parties, Banquets,
Reunions, and More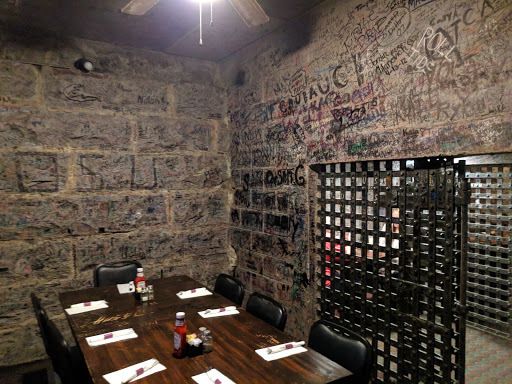 You and your party can reserve a space designated for events, parties, reunions, banquets, and more.

Dine in confinement with your entire party.
★ ★ ★ ★ ★
"Server was great. Ordered a variety of food and our Rib Eye steaks were cooked perfectly and very tender. Takes reservations which we didn't know but was worth the wait. Love that it's casual dress even tho there were some prom night kids there. Even have peanut butter jelly sandwich for kids and my husband even tried a bite and said that was really good. Had a great gathering, couldn't ask for more!"
— Melody Frederick-Sost, Facebook
★ ★ ★ ★ ★
"My wife and I had dinner there today, The steaks were far better than those we had last night at Jack Daniels Bar/Grill inside Opryland Hotel-Resort. The waitress was very attentive and was very helpful in answering all the questions we had about the town and it's history."
— Larry Sawyers, Facebook
★ ★ ★ ★ ★
"Absolutely amazing! Service was on spot, food had so much flavor, environment was so fun and relaxing! Will be bringing the whole family back out!"
— Katie Redden, Facebook
Send Us a Message
Ask a question or make reservations for your event: